Now that Scott has the cedar ceiling up…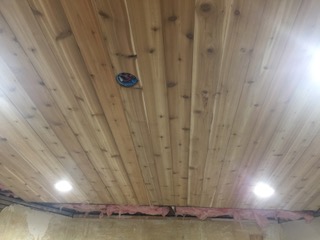 you will notice that the ceiling does not extend to the walls… The reason our closet ceiling does not meet the wall is because the sections for our clothing will extend almost from floor to ceiling. Neither the top or bottom will be as wide as the crown molding or baseboards in our master bedroom, but will still be decorative. The exception is the four inches, well three and a half since four inch boards really not four inches any more. Around the top of the room will be crown molding and the bottom will have a baseboard area.
Scott is designing a walk-in closet system with closet sections for what will go where. Areas for trousers, dresses, skirts, shirts, sweaters, blouses, ties, belts, purses, shoes… All must be allowed space.
For my scarves, I found a lovely scarf display rack that Scott will incorporate into the design. I only ask that he make the wall behind it circular. You should have seen his eyes…

Then, of course, there is the vanity area with space for hairdryers, brushes, curlers, etc. Plus, the jewelry chest that we found at one of the estate sales. That needs to be incorporated into the design also.
Scott is not sure if all these design peculiarities might not cause his head to explode before the design is complete…
I contend he is using new areas of his brain, thereby I am helping him prevent Alzheimer's…
Please enjoy today's offerings…